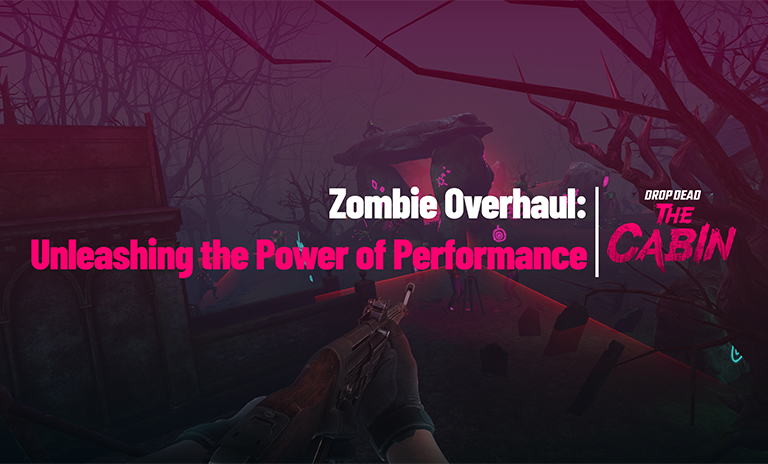 Unleashing the Power of Performance
Summer is in full swing, and it's time for us to spill the beans on all the updates and incredible new projects our team has been working on for
Drop Dead: The Cabin
. Buckle up for a jam-packed community update that will make you drop your milk! We've been hard at work squashing bugs, halting crashes, and fine-tuning performance, all whilst working on a thrilling
new mixed reality (MR) mode
. But that's not all – we've also been preparing something exciting for the
Quest 3 launch
this fall!
Since the launch of
Drop Dead: The Cabin
, we have been listening to all the feedback and suggestions that our community has shared and have continued to make improvements to The Cabin as a whole, as well as in specific areas such as
performance stability
.
We recently made a huge breakthrough that has wildly improved our performance stability. However, achieving this optimal performance on Quest 2 presented its own set of challenges for our team. We aimed to attain a smooth 72 fps for a silky and immersive experience, and with Application SpaceWarp (ASW) we were able to render the game at 72fps whilst running the game logic at 36fps. However, implementing ASW required shader and material updates that demanded considerable effort and faced GPU bottlenecks. To tackle these issues, we optimised draw calls (draw calls contain instructions with data about visuals that is sent from the CPU to the GPU on what visuals should be rendered) by making our shaders compatible with Unity's SRP Batcher technology. Overdraw concerns in and around the cabin area were addressed by incorporating a third-party occlusion culling system, reducing the number of objects rendered when not visible to the player. The successful implementation of these performance enhancements allowed us to achieve our
desired 72fps
for single-player games.
We would like to express our gratitude to the community for their feedback, assistance, and patience during the process of improving The Cabin's experience. With the help of data capture, community feedback, and thorough quality assurance, we were able to identify and resolve several issues that were impacting the game's optimal performance.
Jump back into the Cabin and check it out for yourself!
Zombies will be crashing into your living room this fall! We're taking
Drop Dead: The Cabin
to a whole new level by introducing our thrilling MR mode –
Home Invasion!
Immerse yourself in a fusion of the virtual and the real world, where Dr. Mondays zombie creations smash through into your own home! With the new MR mode, you'll feel like you've stepped into the heart of the action. Brace yourself for an adrenaline-pumping experience that blurs the lines of reality, and get ready for a gaming experience like never before.
We can't wait to share more updates on the upcoming mode!
There are some exciting
new surprises
and improvements in the works that will fully utilize the capabilities of Quest 3.
Drop Dead: The Cabin
will be available on Quest 3, featuring new content and enhanced graphical quality and performance. This will make each zombie encounter and heart-pumping moment feel even more immersive. Stay on the lookout for additional updates and
sneak peeks
as we tirelessly strive to provide the ultimate gaming experience on Quest 3.
We love receiving feedback and are always interested in your suggestions, be sure to join our
Discord
to stay updated with all the latest news!