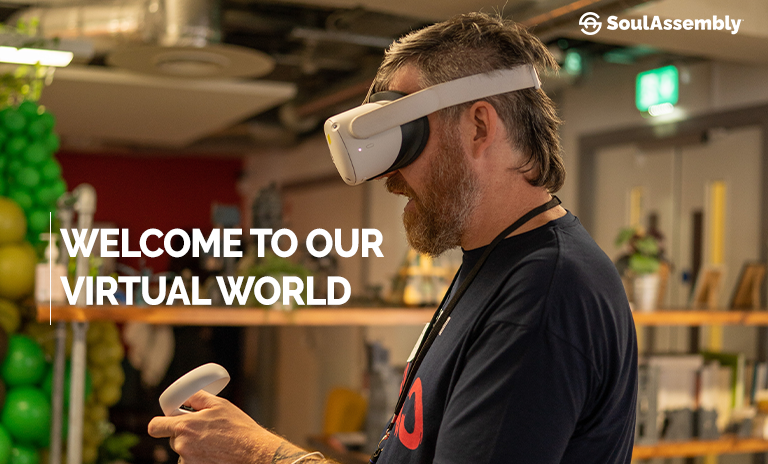 Welcome to Our Virtual World!
Hello from all of us at Soul Assembly!
We're super excited to kick off our brand-new series of blogs where we'll be sharing our world with you. Firstly, allow us to introduce ourselves: we are Soul Assembly, a passionate game development studio that thrives on innovation and creating immersive experiences. We pour our heart and soul into every game we create, so that they truly resonate with players from across the globe.
We believe that games have the incredible ability to transport us to new realms, challenge our skills, and bring people together in ways nothing else can. That's why we embarked on this amazing journey, from our founding back in April 2022, with a mission to deliver unforgettable VR gaming experiences that leave a lasting impact. Since then our studio has grown to 60+ awesome individuals, each with their own unique skills and talents!
We're firm believers that a happy and diverse team is the secret sauce behind creating the best games. We strive to foster an inclusive and supportive environment where everyone feels valued and inspired to do their best. In line with this commitment, we have recently introduced some exciting initiatives to further promote inclusivity and diversity within our studio including a new gender identity policy and the formation of our new equity and diversity steering group!
Since we started our adventure in VR game development, we've achieved some truly remarkable milestones. One of our proudest moments was the release of Drop Dead: The Cabin in February 2023. It was an absolute blast to create, and we're thrilled to see that players from all over the world have been having a fantastic time diving into the thrilling co-op experience we've crafted.
As we reflect on the amazing experiences we've had so far this year, from The Cabin's launch to our adventures at GDC (soon to be adventuring to Develop:Brighton and Gamescom as well), and our nomination as finalists in three categories for the SME National Business Awards. It has been an incredible journey that has motivated us to keep pushing boundaries with XR games.
So, from the bottom of our hearts, we welcome you to the world of Soul Assembly! Join us on our adventure creating immersive experiences – into new worlds, conquering challenges, and making life-long friends along the way.
Ready? Set? Let's go!