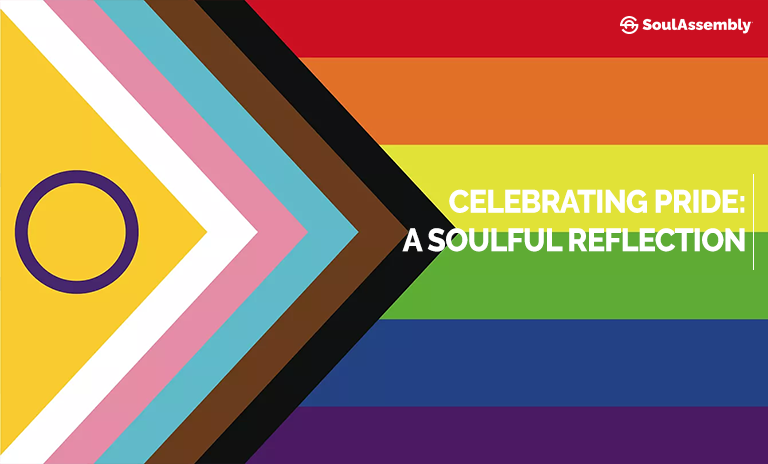 Celebrating Pride: A Soulful Reflection
How We Celebrated Love and Diversity this Pride Month!
We're committed to creating a workplace where everyone feels seen, supported, and celebrated for who they are. That's why we honoured Pride Month with open arms and spread love throughout our studio. Let's dive into the exciting activities and initiatives we got up to this Pride Month!
First things first, our office underwent a colourful transformation! We adorned our walls with vibrant pride flags, creating a welcoming and inclusive environment that visibly shows our support for the LGBTQIA+ community. Every time we stepped into our studio throughout June, we were greeted by a burst of rainbow colours!
To encourage personal expression and support, we provided our amazing team with pride pins, badges and flags for their desk. These small accessories allowed everyone to proudly display their individual support for the LGBTQIA+ community. We hope that this small gesture of colourful pins adorning backpacks, badges pinned on lanyards and flags balanced in coffee mugs spread a message of love, acceptance, and unity throughout our team.
Our commitment to inclusion is not simply contained to the act of wearing badges and waving flags. June was also the month we introduced our new gender identity policy. This comprehensive policy ensures that individuals of all gender identities are treated with respect and dignity. We want everyone to feel safe and valued in our studio no matter how they identify, the introduction of our gender identity policy is just one stepping stone on Soul Assembly's lifelong journey to maintain and grow a truly welcoming and inclusive studio.
To celebrate the spirit of Pride Month and the incredible diversity within our team, we hosted a delightful pride picnic! Despite the rain preventing us from picnic-ing outside, we enjoyed some time to come together and share stories within the huddle space of our studio. We celebrate the beauty of uniqueness, and our continued work on maintaining an environment where everyone's voice is heard and cherished.
We'd like to highlight these incredible organisations that work tirelessly to support and uplift the LGBTQIA+ community:
Out Making Games (OMG): Working tirelessly to connect and empower LGBTQIA+ professionals in the UK's games industry.
Gayming Magazine: A global publication dedicated to the LGBTQIA+ video games community.
Trans Lifeline: Provides trans peer support divested from police. Run by and for trans individuals, they offer crucial help to the trans community.
Represent Me: A not-for-profit organisation, supporting marginalised communities through resources, training, and support. Their extensive database showcasing LGBTQIA+ representation in games allows individuals to find games that resonate with their identities.
Gendered Intelligence: Dedicated to empowering and supporting transgender, non-binary, and gender-diverse individuals through workshops, training, mentoring, and advocacy.
https://genderedintelligence.co.uk/ 
Pride Month is an opportunity for us to come together, educate, and celebrate the LGBTQIA+ community. Through colourful decorations, personal expression, policy enhancements, community gatherings, and raising awareness, we strive to create a world where everyone can feel safe and free to be their true authentic self.
Let's go beyond confining unity, understanding, and empowerment to just the month of June and strive to make these values an integral part of every single day!
We hope everyone had a happy Pride Month!