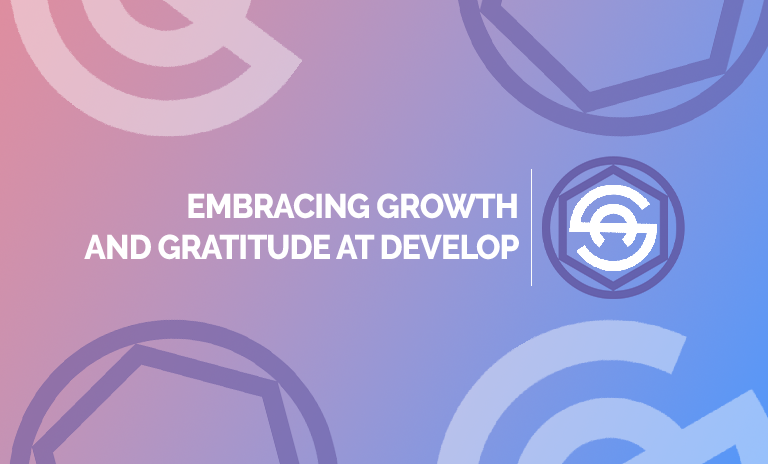 Embracing Growth and Gratitude at Develop
Our team returned from Develop:Brighton with a treasure trove of new knowledge and insights to share. Last week, they had the incredible opportunity to immerse themselves in the dynamic atmosphere of one of the industry's most anticipated events. Now, we sit down with intrepid adventurer and Recruitment Manager Ciaran, to catch up and uncover some of the valuable lessons he learned during his time at the conference.
What were your expectations before attending Develop Brighton, and did the event meet or exceed those expectations?
Ciaran: I went to Develop with an open mind, as in the past I have attended similar events in other sectors that didn't quite live up to the hype. But Develop blew my mind! It was incredible!
I was super excited to be in a place surrounded by so many awesome and talented people who have made or are making games that they are so passionate about. I know I've come away with a greater passion than I had before attending, as well as so many new ideas and takeaways to improve the recruitment process here at Soul Assembly.
Develop Brighton is known for its networking opportunities. Can you describe any meaningful connections you made during the event and how they may influence your work at Soul Assembly?
C: From the first day of the event to the last, it was a total blast! I had the chance to meet people who are; new to the industry, soon to join us when they graduate and those wanting to find their next exciting project to work on.
I also met with many people working for universities, all of whom were so passionate! It was clear from the very start just how much they care about their students and helping them find the best place for them to land in the industry. We discussed how Soul Assembly can help bridge the gap between academia and entrance to the industry. As there is so much talent graduating soon and those that have graduated in recent years and are struggling to get their first job.
I'm really driven to help people get their foot into the door of the games industry, and this event has given me plenty of food for thought. But also a great foundation of real examples, first-hand experiences and opinions from those directly involved to help build our new strategy with maximum impact and help amazing people get the chance to fulfil their dreams and make awesome new games!
In what ways has attending Develop Brighton influenced your perspective on the game development industry and the challenges it faces in terms of diversity and inclusion?
C: I think meeting people in person and attending some of the fantastic round tables and talks allowed for there to be a great level of openness and safe spaces for people to be publicly vulnerable and share their own personal experiences. Creating these safe spaces where everyone can share their personal experiences will help raise awareness, understanding and compassion for each other that will improve access and visibility within the industry for all communities.
Develop Brighton attracts professionals from various disciplines within the gaming industry. Did you encounter any unexpected or unique perspectives that challenged your existing assumptions or beliefs about talent management?
C: I certainly did! I finally met people IRL (in real life) after many months of speaking on the phone and LinkedIn, something I am so happy that I got the chance to do.
I was told about how some companies, have, or are going to introduce software to do keyword searches during the initial CV review to help in the recruitment process and ensure a high-quality hire. Whilst this may speed up the process to some extent, in my view, it does not offer talented applicants the level of respect their applications deserve. I am a believer that recruitment is a people industry, where it is our place to review the CV and see if the applicant is fit for the role with a level of personable thinking.
For me, removing the personal touch and human element of a CV screen is a major mistake. There are a number of reasons of why an individual may not have a CV that hits all the keywords that are required and I am very concerned that software like this will actually reduce the entrance of those who are disabled or neurodiverse.
Develop Brighton is a gathering of new ideas, inspiration and creativity, what were your favourite moments from your time there?
C: My favourite moments are all from meeting new and interesting people face to face. The way people express themselves in person or build rapport is so much better than doing it on Zoom or Teams, which are great but in a different way.
There was a real buzz about the future and what is to come, the creation of new ideas and also the way people who had only just met whilst at Develop seemed like they had known each other for years and were going out of their way to introduce people and network on the others behalf.
At the SpecialEffect event on the last night, I met so many people! It all started with striking up conversations with one person, who then introduced me to others they had recently connected with. Remarkably, many of them shared similar opinions or were actively seeking the types of roles that I will soon be excited to share with everyone! My brain is still spinning and processing information and opinions from all of the conversations and what I learned over the past few days.
This event was a really amazing experience that truly represented everything that is so incredible about the UK gaming industry. I am already counting down the days until next years Develop!